Publications
Public Relations in Hyper-globalization: Essential Relationship Management – A Japan Perspective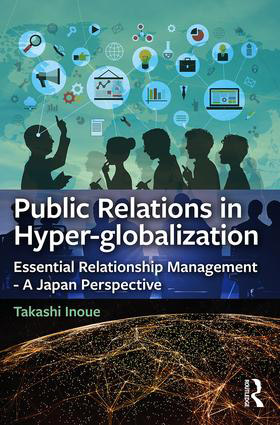 "Public Relations in Hyper-globalization: Essential Relationship Management – A Japan Perspective, 2018, Routledge"
'Communication is one of the most important tools for global leaders. No one is born with this natural ability; rather, it is built through training, practice, and continuous learning. No matter what level you are in your career, Professor Inoue's book offers the practical advice and real-life examples to help executives to hone the craft of communications, tell better stories, and motivate others to grow and transform the business.'
— Carlos Ghosn, Chairman of the Board, Nissan Motor Co., Ltd.
Public Relations: Relationship Management, Second Edition (Japanese-language)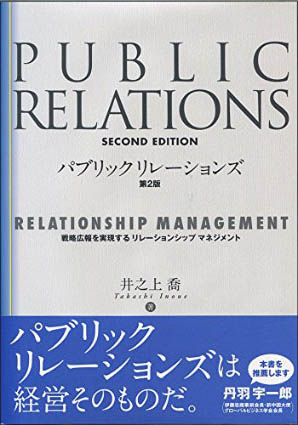 In today's increasingly globalized world, we are witnesses to a wide variety of occurrences including diverse technical innovations spurred by the explosive spread of the Internet, and the growth of social media. These are having massive and far-reaching effects on politics, business, society, and even people's daily lives.
Inoue PR decided to prepare an updated second edition of Public Relations: Relationship Management. This second edition offers a more contemporary perspective reflecting these global-scale transformations and the associated shifts in the role of public relations.
Public Relations Needs to be Understood as an Integral Part of Running a Business
Amid accelerating globalization, the power of public relations is to solve problems rapidly through relationship management that creates effective and ethical win-win solutions for stakeholders worldwide.
Moreover, the power of public relations is to increase the effectiveness of all other resources used by a business by inspiring employees, shareholders, suppliers, and customers and, in doing so, achieving your goals quickly and efficiently.
Premised on this backdrop, the book pursues the role and importance of public relations. It gives clear direction on the practices and analytical methods that can be employed by public relations professionals in management and front-line roles exposed to the competitive environment of doing business today. And for organizations, it cites specific case studies to demonstrate how relationship management—working to build and maintain mutually beneficial relations with stakeholders with varied interests—is indispensable for achieving public relations goals and objectives.